Clean and Lubricate Main Brush Gear System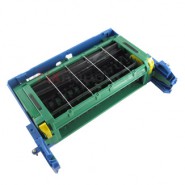 Description
Main brushes not spinning or do they constantly spin and stop with "Clean Roomba Brushes" error, error 2, or 2 beeps error no matter how many times you clean the brushes?
This service cleans and lubricates the gear system of the main brush which in many cases resolves the problem. Replacement of the Cleaning Head Module (CHM) or cleaning of the brushes is not included. Repair of damaged CHM motor, gears, drive train, or casing will incur an additional charge.
What's Included:
Service: C

lean and lubricate the gears and drivetrain of the main brush Cleaning Head Module (CHM).

FREE return shipping of your Roomba

Fully test the complete operation of your Roomba
Other Information:
No Warranty.

Can combine with other repairs for a discount. Call 1-855-FIX-ROBOT for details.

Note: This is not a manufacturer warranty service. For all manufacturer in-warranty service, please contact iRobot customer service.