9 Beeps - Circle Dance Repair - 2 Sensors- Roomba 500 Series
Does your Roomba give you a 9 beep error or backs up and goes in circles doing the "circle dance"? This is the repair for you.
Learn More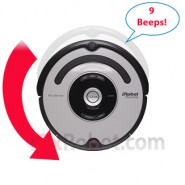 Description
This repair fixes the following problems:
What's Included:
Repair Service of TWO bumper sensors for a 500 or 600 series Roomba. (For other model series please order our Diagnostics Service for your model).

Full test and FREE inspection of your Roomba.

FREE Return Ground Shipping promotion.




(Promotion not available with repairs ordered from our free repair estimate service.)
Warranty
200 day parts and labor warranty. We offer the best warranty of any Roomba repair center!