FREE Neato XV-25 Diagnostics / Repair Estimate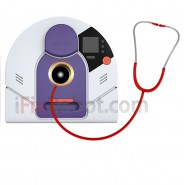 Description
Not sure what's wrong with your Neato XV-25? Our FREE Diagnostics service will tell you in 3 easy steps:
Step 1:
Place your order and ship your Neato XV-25 to our service center. We can send you a box and/or prepaid shipping label to make things as easy as possible!
Step 2:
Our technicians perform a battery of tests to pin-point the problem, and then will send you a detailed repair quote.
Step 3:
You authorize the repair: We will repair your Neato XV-25, and ship it back.
or
You decline the repair: We will ship back your Neato XV-25 using your selected shipping method. We are also happy to recycle your Neato XV-25 for you at no additional charge.
---
Warranty
All repairs are backed by our exclusive 200 day warranty. We offer the best warranty of any Neato Robotics repair center!